It is with great sadness that we have learned of the sudden passing of Jerry Hathaway on Saturday, Sept 4th.
Jerry was one of the most knowledgeable people about the workings of the Citroën SM, and owned and operated SM World in the Los Angeles area.
Jerry was born in 1946, and grew up on the family farm in West Virginia. At the age of 17 and with very little money, he and his baby daughter set out for California. He was given the advice to, "Fib on your work experience, so by the time they figure out that you don't know what you're doing you will have a week's wage."
Holding on to that advice Jerry landed a job at a brake repair shop and to his pleasant surprise the first day on the job they told him to forget everything he knew about brakes, they were going to teach him their way. That began Jerry's long illustrious automotive career.
He then moved on to Irv White Buick where, after doing alignments and various other boring work on Buicks for nearly 10 years, the dealership imported a new car from France — the Citroën SM. That is when things changed for Jerry. Every other technician was intimidated by the SM's complexity, yet Jerry was obsessed with all aspects of the car often saying "It was from a different planet" and decided to become an SM specialist.
He set out on his own in 1976 along with Sylvia, his wife at the time, and began to hoard Citroën parts. Citroën USA had heard about his notoriety servicing SMs in LA and bestowed on him factory-certified status. If you wanted your SM (or DS or CX) worked on or restored, SM World became the place to go. Along with his servicing and restoration efforts, Jerry and Sylvia created extensive service documentation for the SM which they freely shared as well as creating a reference directory of virtually all of the SMs that they encountered.
One of Jerry's crowning achievements was building the world record-holding SM racecar along with a custom Citroën hydraulic suspension tow trailer and an SM Jerry modified to be a pick-up tow vehicle that he fondly referred to as the "Rig". (Read the article that Hagerty did on them here: https://www.hagerty.com/media/car-profiles/mullin-museum-citroen-exhibit/.) The race car and Rig have been shown in several museums such as the Peterson and Mullin Automotive Museums as well as at various car shows.
Jerry made a huge impression at the 12th ICCCR in Amherst MA — the only time the ICCCR has been held outside of Europe. Jerry drove the SM pick-up, towing the trailer with the SM racecar on it, across the USA to the event. At regular intervals on the show field he fired up both the racecar and the pick-up to a thrilled crowd!
Jerry worked on SMs for a number of notable customers. His most prolific one was arguably Jay Leno who Jay has credited on many occasions for helping him source, maintain and enhance the DS and the SM that he owns. One great moment with Jerry and Jay was captured on video back in October 2016 on Jay Leno's Garage. We featured it here: https://citroenvie.com/jay-leno-chats-sms-with-jerry-hathaway/
Both Both the SM racer and the pick-up were auctioned in 2021. (We wrote about it at the time: https://citroenvie.com/2-unique-sm-world-wonders-to-be-auctioned/.)
Jerry became the renowned authority on Citroën SM. This car was his true passion, he lived and breathed Citroën, up until his very last breath where Jerry passed away of natural causes on September 4th, 2021 — peacefully at his shop sitting in his office chair.
Jerry is survived by his four daughters, Cheryl, MIchelle, Denise and Lisa, his sister Debbie, as well as his SM racecar and Rig.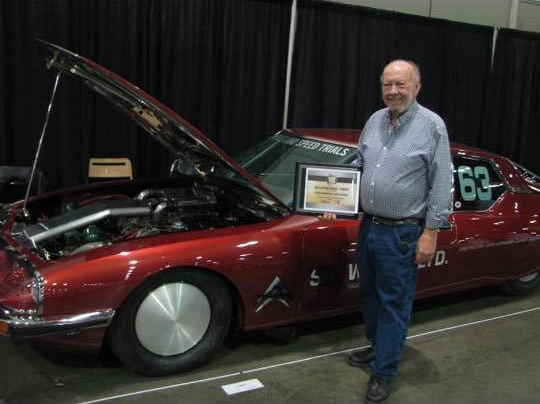 And here is a video (in French) of Jerry's SM achieving the land speed record as well as profile of his SM World operation at the time: https://www.youtube.com/watch?v=Hx7D2CG2yk8