PSA Peugeot Citroën may announce a new direction, part of its six-year growth plan called "push to pass", that aims to help PSA Peugeot Citroën expand its presence in markets outside of Europe and Asia.  Speaking at the launch of the new Peugeot Expert and Citroën Jumpy vans in France, Peugeot CEO Maxime Picat announced the company's interest in a new 'opportunity'of growth.  According to Picat  "We always consider the pick-up market as an opportunity, it's part of our history. We're thinking about it."
First for PSA Peugeot Citroën but hardly new itself, the mid-size pick-up model will most likely share the bulk of its mechanical components with either Toyota's eight-generation Hilux or the Fiat's new Toro.
If they go the Toyota route, the commonality continues a model sharing trend that has been established.  The Peugeot 108, the Citroën C1, and the Toyota Aygo are identical underneath the sheetmetal.  It's not too far-fetched to speculate that Toyota would let Peugeot-Citroën have its own version of the Hilux.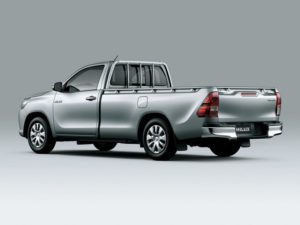 European Toyota Hilux
Working with Fiat would further develop the truck relationship they have as Fiat currently sells the Ducato, a re-badge of Peugeot's Boxer and Citroën's Jumper van series,
  Brazilian Fiat Toro
Reportedly whatever form it takes, PSA Peugeot Citroën's truck will be a body-on-frame model available in several configurations, including single cab, double cab, and cab-chassis.  Most variants will ship with a four-cylinder turbodiesel engine.  A manual transmission and rear-wheel drive will come standard, and buyers will be able to order an automatic transmission, four-wheel drive, or both at extra cost.
If a pickup is indeed in the works, it will likely go on sale across Europe and in a handful of international markets — including Latin America and Australia — in about a year.  Since pick-up trucks account for sizeable amount of the North American market, offering such a vehicle here may appear as an enticing opportunity for PSA Peugeot Citroën, but the market is already dominated by not only Chrysler, Ford and GM, but import rivals like Honda, Nissan and Toyota who have been working hard for over a decade to establish their models in the market.
Most likely as the PSA Peugeot Citroën see that other manufacturers such as Renault, Fiat and Mercedes-Benz have similar models in the pipeline.  They don't want to be perceived as not having product in a competitive segment within markets like Europe, Latin America and Australia.